南佛州波卡中文學校
Overview
The Boca Raton Chinese School, an affiliate of CCASF, was established in 1985. It currently provides Chinese language education to over 100 children ages 4-18 every Saturday morning during the regular school year at Olympic Heights High School in Boca Raton. It also offers adult conversional class to non-Chinese speakers, Tai Chi Chuan and dance classes when the Saturday language school is in session.
In addition, the school is associated with a Dance Theater, providing a rich repertoire of Chinese folk and lion dancers, who perform regularly in the traditional Chinese festival celebrations and multi-cultural events, as well as community services to area seniors in retirement homes.
Like CCASF, the Chinese School is run by a group of volunteers dedicated to the promotion and understanding of Chinese culture and heritage.
Boca Raton Chinese School
波卡中文學校

C
hinese New Year: February 14, 2015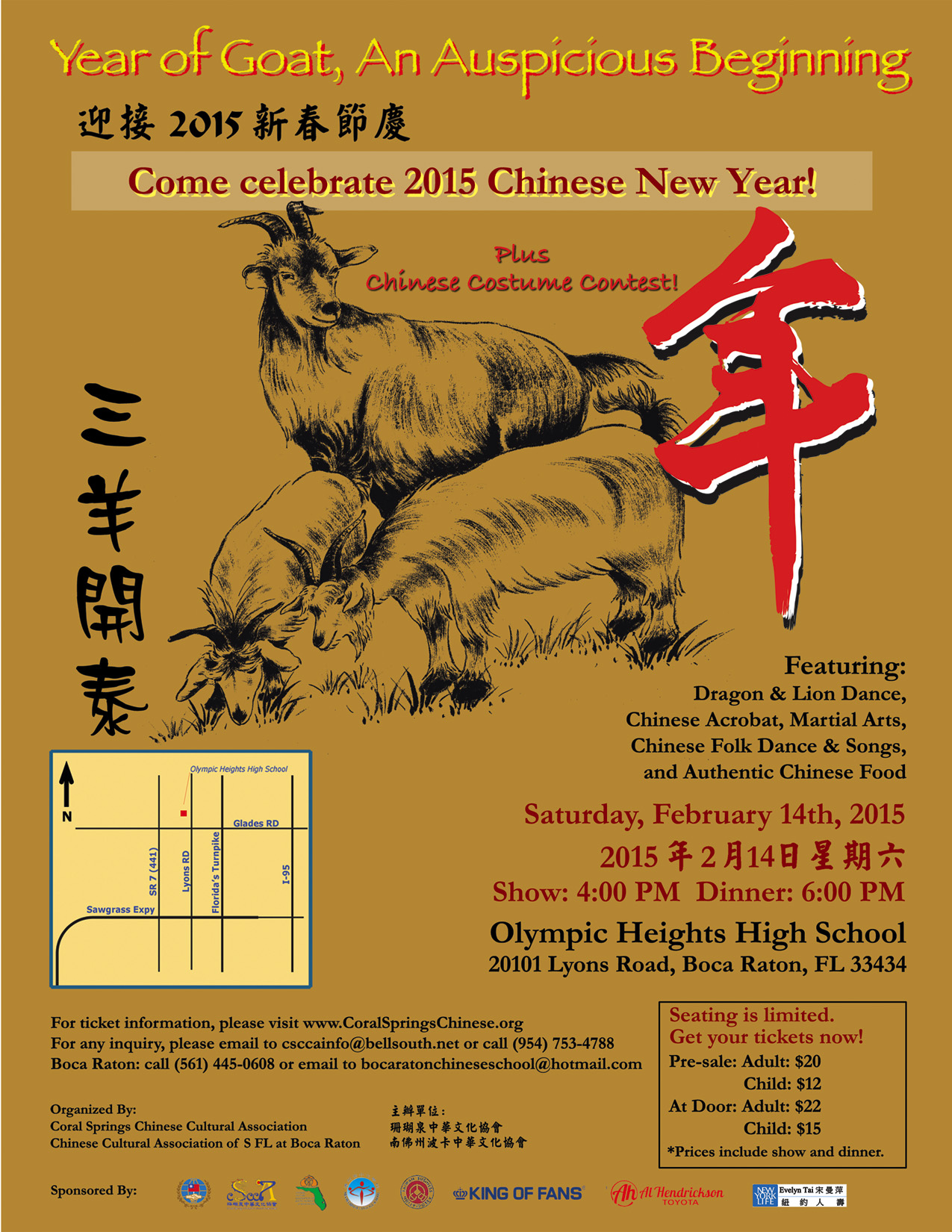 School Hours and Location
9:00-11:50AM, Every Saturday morning during the regular school year.
Olympic Heights High School
20101 Lyons Road, Boca Raton, Florida, 33434
(Between Yamato Road and Glades Road)
o Curriculum and Activities
Students learn to read and write in traditional Chinese characters and speak in Mandarin (Pin Yin and Zhu Yin system are both used).
To make learning fun, we also have calligraphy, Chinese Folk Dance, Chinese paper cutting, and other cultural activities every other week.
Students can participate in a Sports Day, Calligraphy Contest and Speech Contest during the school year.
o Pictures of Student Activities- under construction 12-14-06.
For more information: please email: bocaratonchineseschool@hotmail.com